We had a full house! And we had a lot to talk about:
INCORRECT ELECTRIC BILLS

:

Stellar replaced faulty electric bills with correct rent/electricity bills. Pay the corrected bill. If you've already paid the incorrect first bill, make sure you see a credit on your rent bill next month.
MCI

– We voted to appeal the MCI increase of $1.39/room. This appeal, within DHCR, is a "Petition for Administrative Review" – or PAR. Our lawyer has already done most of the research. In the meantime:
rent stabilized tenants MUST PAY THE INCREASE of
1 Bedroom = $4.17 / month more
2 Bedrooms = $5.56 / month more
3 Bedrooms = $6.95 / month more.
No retroactive amount should be charged until the PAR is resolved – usually in a year or so.
SCRIE and DRIE tenants and those receiving public assistance, who received the DHCR order should file an Adjustment of Abatement form with a copy of the notice. The address is on the form. Click on "SCRIE" or "DRIE" for the form. Send it by certified mail, return receipt requested, and keep a copy of everything you send in.
Building
– Floor tiles are being replaced; check for your name on the intercom. Call in any corrections to Ferida at 212-222-4430. The heating season begins Oct. 1st. That means that:
From 6 AM to 10 PM, when the OUTSIDE temperature is below 55 degrees, the inside temperature must be at least 68.

From 10 PM to 6 AM, when the OUTSIDE temperature is below 40 degrees, the inside temperature must be at least 55.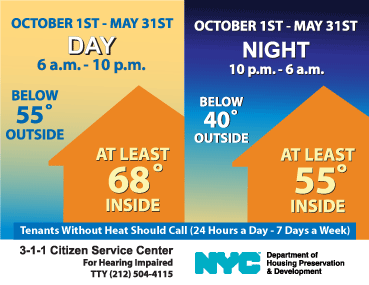 Financial Report

– Joan Browne reported our bank balance, and urged tenants to pay not only 2012 dues of $10 per apartment, but also the $100 legal fund contribution. Give the money to your floor captain or bring it to Apt. 12F and get a receipt.
The Real Rent Reform Campaign (R3)

is working in the short term to urge Assembly Speaker Sheldon Silver from passing J-51 landlord tax breaks unless tenants get
•

A limit to MCI increases
•

City Council say in the composition of the Rent Guidelines Board.
•

An end to preferential rent sharp increases (relevant mainly in the outer boroughs.)
Tenants at the meeting filled out and sent a bunch of postcards to that effect, and you are urged to do the same if you haven't already.) Sue has postcards.
For the longer term, R3 is planning strategy for the June 2015 expiration of the rent laws - working to organize many more of the 2 million rent regulated tenants, to reach out to market-rate tenants, and to raise money for a successful media campaign.
NEW NOTE: Tenants PAC Fundraiser on Tuesday! For as little as $25, you can hear live jazz, enjoy good food & company and an open bar - and support candidates who support tenants.
Photo by Greg Richter
CONGRESSMAN JERRY NADLER
spoke and answered questions for over an hour and a half.
He talked about the economy, saying that the social safety net programs such as Medicare, Medicaid, Social Security, and Unemployment Insurance are needed precisely when people are out of work: those programs permit them to live and to spend some money (as opposed to none) to keep the economy going. So we need more stimulus now (even if it runs up the deficit for now). He pointed out that the deficit will decrease as more
people get back to work – as happened when the Clinton administration had a huge surplus. He noted that we can look at England, Spain and Germany as examples of what happens if you follow (or not) the Romney plan for cutting subsidies to the middle class and the poor.
In response to questions about who will win the U.S. House of Representatives, he said that there were contests for 4 seats in the U.S. Congress that Democrats could pick up in New York State:
Mark Murphy
in Staten Island;
Sean Maloney
in Westchester and other counties upstate;
Julian Schreibman
in Ulster/Duchess Counties; and
Dan Maffei
in Syracuse. In addition, there are seats where Democrats are already likely to win, including
Louise Slaughter
in Rochester and Genesee Counties;
Tim Bishop
in Suffolk County,
Kathy Hochul
in Buffalo, and Bill Owens in the Watertown area.
Rep. Nadler urged people to help those candidates win.
Cong. Nadler pointed out that some-times bad policies (like FISA, authorizing wire taps) become institutionalized when they're passed under one administration, and the next administration does nothing. He contrasted that with Social Security, which was passed under Roosevelt but strengthened by GOP President Eisenhower.
At our request, he agreed to contact State Assembly Speaker Sheldon Silver and urge him not to renew J-51 (a landlord tax break) without tenant protections. Rep. Nadler noted that he had blocked J-51 for 2 years when he was a member of the NYS Assembly until tenant protections were provided, including
Limiting Major Capital Improvements (MCIs) so they are not indefinite rent increases;
Requiring City Council say on who is appointed to the Rent Guidelines Board, and
Ending sharp rent increases for tenants with "preferential rents" (mainly an issue in the outer boroughs).
Ruth Ellin thanked him for helping to begin our tenant association – in her apartment. Thanks also to all the tenants who were here at that time and helped the organization get going, including Helen Merber, Alitha Mobley, Ruby Barber, Mary Martin, and many whose names I don't have in front of me right now!
The Congressman stayed around to chat with tenants enjoying the coffee, tea, fruit and cookies.
Guest Marc Landis, a District Leader of Community Free Democrats, noted that the Obama/Mark Murphy storefront at 80th St. and Columbus (410 Col., opposite the Museum of Natural History), run by
Community Free Democrats and Ansonia Independent Democrats is open Monday through Thursday, 3 to 9 pm, and Saturday and Sunday, 12 to 4 pm. Also present were Joan Paylo, the other CFD District Leader; Chuck Tice and Maggi Peyton of Park West Village's Tenant Association; Mark Diller, chair of Community Board 7; and Helen Rosenthal.
Marc Landis, Helen Rosenthal, Mel Wymore and Debra Cooper are among the candidates vying for Council Member Gale Brewer's term-limited seat in 2013. Whether we remain in Melissa Mark-Viverito's district or end up in Gale Brewer's district depends on . . .
REDISTRICTING: Thurs., Oct. 4, 2012 beginning at 5:30, the City Redistricting Commission is meeting at Schomburg Plaza to determine whether we stay in the district of Melissa Mark-Viverito. Go testify!
If you're not registered to vote, register – and support pro-tenant candidates.
The Executive Committee
-

Sue Susman, sue @ janak dot org
-

Na'ava Ades, naavaa AT gmail DOT com
-

Joan Browne, treasurer, jbbrownefaison aT atT dot net
-

Rich Jordan, richj214 At aoL dot Com
-

Steve Koulish, eskoolman @ yahoo doT com
-

Greg Murray, geeemurr AT aOL . COM